April 14, 2020
9 Best Solo Travel Destinations in the world | Pahadi Travelers
Solo Travelling has always been a dream of some peoples. There's something very different about solo traveling and that is what makes it more special. But when we talk about traveling solo, the first thing that comes in our mind is whether it is safe or not? The Solo travel destinations where I wanna go is actually good for my safety or not? Traveling alone takes out several challenges but it's worth it.
So guys here we are going to talk about the 9 best solo travel destinations in the world. These are not just randomly picked up instead I have taken out a lot of research about them and I have come up with them.
Know Why

Solo Travelling is Trending nowadays and it's good for you too
9 Best solo travel destinations in the world
Hope you're gonna find this post really inspirational and helpful.
Enjoy this list of best places for solo travel for your next trip :)
1. Singapore
Singapore
This amazing country in South-east Asia leaves an amazing impression on every traveler. There's so much to explore in Singapore and you can't get enough of it in only a one-time travel trip. The cityscape, brilliant charm of the environment, lovely nightlife, and overwhelming places make Singapore a great place for solo traveling.
Moreover, Singapore is a really safe place for female solo travelers. You need not worry about the negatives while visiting this beautiful country. The locals are supportive too and that helps the visitors a lot on their trip.
Some must-visit places in Singapore :
Gardens by the Bay
Underwater World
Singapore Botanic Garden
Singapore Zoo
National Orchid Garden
Cloud Forest
Udaipur City Palace
Rajasthan, a state in Western India is home to some of the oldest historical forts and monuments. This Place is indeed full of great vibes, the culture, the food, the surroundings everything is just so good. I've been to Rajasthan quite a Few Times and what seems to me is that it is best suitable for solo travelers and they can find a lot more things to explore there without any hesitation.
You need not worry about any bad happenings, you'll really love the way Rajasthan is. Indeed, a great solo female travel destination.
Places to See in Rajasthan, India are:
Amber Fort, Amer
Hawa Mahal, Jaipur
Jantar Mantar, Jaipur
Jaisalmer Fort, Jaisalmer
Lake Pichola, Udaipur
Bhangar, Alwar
Udaipur City Palace, Udaipur
Must Read : 8 Travel Related things you can do in quarantine at home
3. New York City
Empire State Building
NYC is a very popular destination among tourists from years. Every Year thousands of travelers come here to enjoy the mesmerizing beauty of this city. The Bars, Clubs, Bridges, Restaurants catches the eye of every person. I am a New York Admirer and I think that it's a good place to travel as a Solo Traveler.
There are numerous places in New York City with whom Solo Travelers can easily Fall in Love with.
If you are a Picture Lover than I recommend you to Read our Post about 10 Most Amazing Instagrammable Places in NYC.
Places to watch out in New York :
Times Square
Central Park
Statue Of Liberty
Empire State Building
Brooklyn Bridge
Manhattan Bridge
Phuket, Thailand
Located in Southern East Asia, Thailand is known for its Temples, Martial Arts, Natural sights, and Beaches. Thailand is generally safe for solo traveling but you need to be a little conscious about yourself. Don't worry, Incidents of assault doesn't really happen here.
The Islands of Thailand are very popular across the globe as This Country is home to numerous Islands. One most Popular Island here is Phuket Island which is a must to add in your Bucket List of Thailand. Moreover, the resorts in Thailand are fascinating for Travelers. This is one of the best solo travel destinations for you according to me!
Places in Thailand to Visit on Your Trip:
Bangkok
Phuket
Phi Phi Island
Pattaya City
Krabi
Phang Nga Bay
5. London, United Kingdom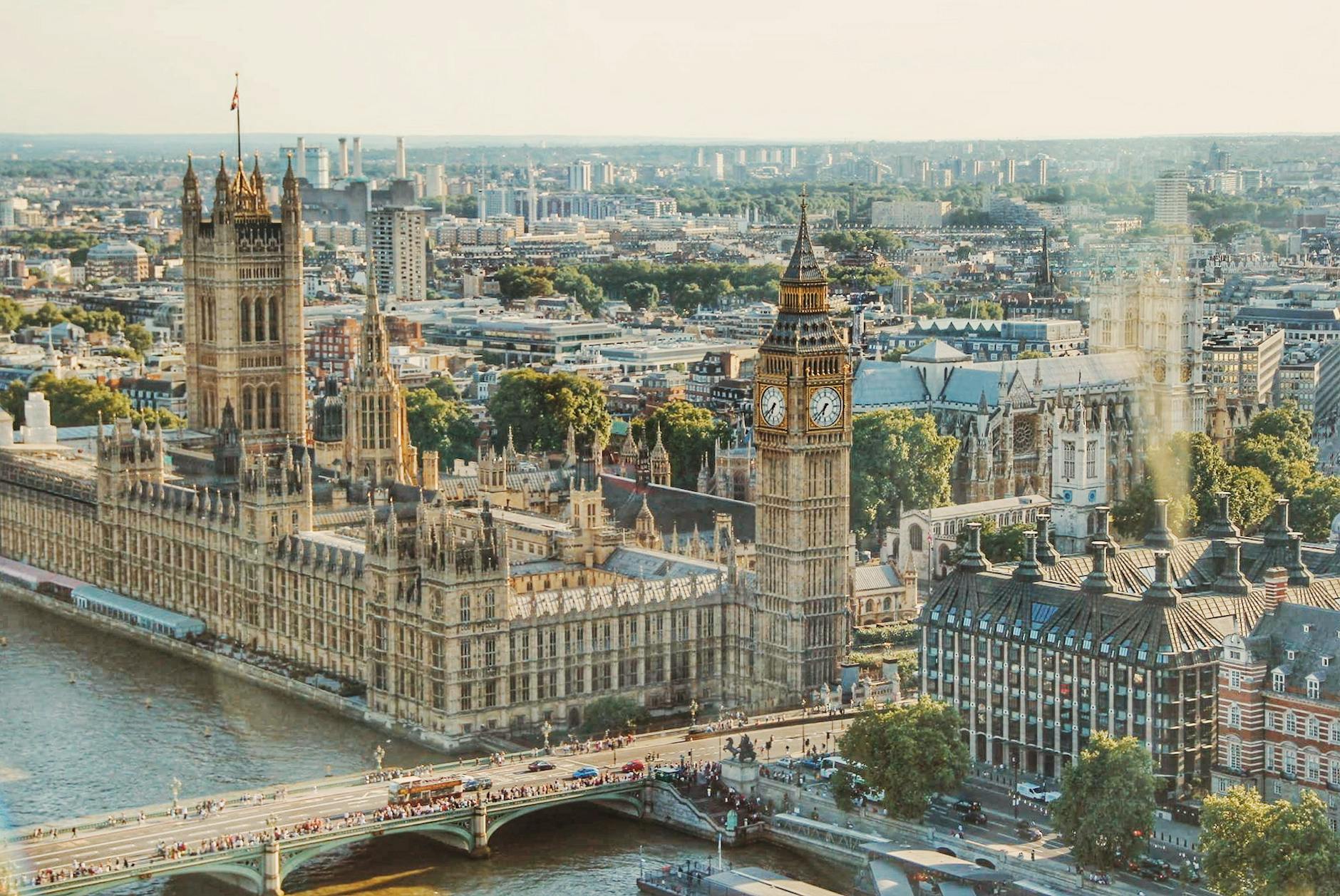 London Aerial View
Well, London is a civilized city and every traveler gets a kind of royal vibe while being there. Despite Its Beautiful Lifestyle, London is Safe for Female solo Travel, In fact not only for females but for every gender.
Thousands of Hotels and a large number of Airbnb's, having accommodation in this city is very easy. London is well connected with Underground Tubes, Buses, and Cabs so you'll not find any Difficulty in traveling alone from one place to another.
Best Places to Visit In London:
Big Ben
Tower Of London
London Eye
Tower Bridge
Buckingham Palace
The British Museum
Palace of Westminster
Iceland
Iceland is one of the most peaceful countries in the world, and if you are a regular reader of my blog you would have known that it's my favorite destination in the world.
The Crime rate in Iceland is the lowest in the world, what else can a solo traveler expect at the best. Reykjavik has many bars and restaurants to hang out. Furthermore, Iceland is famous for its Wonderful waterfalls and Spectacular Fields and Mountains.
Best Things to see in Iceland:
Blue Lagoon
Thingvellir National Park
Gullfoss falls
Geysir
Dettifoss
Kirkjufell
Southern New Zealand
New Zealand is trending nowadays for Solo Travelling. Everybody is visiting New Zealand to see the lovely atmosphere there. Well in New Zealand you need not worry about the ways, the highways are so well designed to help you with such easy navigation.
Moreover, there will be no confusion in the language as the native language of New Zealand is English, that's one of the great things!
The locals are really happy to help and friendly. Also, New Zealand is safe to travel but you need to understand that you have to adopt some practices to be safer.
Best places to visit in New Zealand are:
Milford Sound
Queenstown
Wanaka
Dunedin
Bay of Islands
Nelson
Napier
Ibiza, Spain
Traveling alone in Spain is easy, there's a good transportation system and relatively cheaper. The two most popular cities in Spain are Madrid and Barcelona and they are pretty busiest all the time.
The Festivals in Spain is something that you should witness and they are very well-known throughout the world. The Food in Spanish is delicious some of them are Paella, Gazpacho, Salmorejo, and many more.
Places to visit in Spain are:
Toronto
Canada is the second biggest country in the world and without any doubt, it is safe for solo travelers too. They have very cultured and classy cities one of them is Toronto, central hub of Canada where you can have access to almost every resource and also pretty friendly for solo female travelers.
Note that carrying a mace and pepper spray with yourself is illegal in Canada. It's okay the native peoples will be ready for your defense.
Stanley Park
CN Tower
Banff National Park of Canada
Capilano Suspension Bridge
The Butchart Gardens
Lake Louise
Jasper National Park
Moreover, If you don't know how to plan a trip that stands out? Then you should definitely check our guide for How to Plan a Trip in 6 easy steps. Believe me, even I adopt these steps to plan my trip and every trip is worth it.
Tell us where have you traveled as a solo traveler
If you loved reading this, It would be so lovely to share it!